Rent your place without leaving home
Possibility of virtual visit by video call
Accommodation with central locations and of great interest for its artistic and cultural heritage, with good public transport links and connections to major universities, study centers and business centers.
About us
The MundialRooms team is formed by young people, experienced in the real estate sector and specialized in providing quality accommodation for students and young profesionals.
Professional Staff
Dedicated to property management and the well-being of our clients, the MundialRooms team makes every effort to ensure that you have the best experience finding a real home in Madrid.
Personalized Customer Service
Each person is different and their needs are different. In MundialRooms we know that each client is unique, that's why we offer the accommodation that best suits your needs. Multilingual attention.
Accommodations in Madrid
MundialRooms apartments are located in safe and interesting areas of the capital. Plaza Mayor, Puerta del Sol, San Bernardo, Barrio Salamanca or Jerónimos are some of the places where our apartments are located.
Our services
Accommodation
All our accommodations, whether apartments, studios or rooms, are completely renovated, renovated and adapted to the life of today's student and young professional. They are homes for young people, with a multicultural atmosphere and a place to share experiences. You will feel at home. Houses and shared apartments for young people, with great central areas, located in front of the main universities and with very good communications. We verify all the properties, both photographs and videos are ours and 100% accurate.
Information
The best online service, adapted to new technologies: your new apartment, studio or room at a click. Graphic information, videos, photos and floor plans of the apartment where you are going to live without the need to visit the property. Fully personalized information, we advise you on the choice of your accommodation, providing you with the most suitable location for your activities and your day to day life... We have an assistance service for all the administrative procedures related to the reason of your stay in our properties: residence permit, study or work permit, transport card, telephone card, opening a bank account, etc...
Types of Accommodations
MundialRooms offers a wide variety of properties all over the city, ranging from a room in a shared apartment to a complete apartment. You can find:
Studios or complete houses, for those of you who are looking for privacy and to be able to choose who to live with. Ideal for groups of friends or couples.
Rooms in a shared apartment, for those students and young professionals who do not mind sharing an apartment and experiences with other young people in a more economical way. They are homes for young people, with a multicultural atmosphere. You will feel at home.
Maintenance
Maintenance service in all our apartments, with our own personnel and of total confiability. Online communication of incidences in the apartment and all the extra services you may need. Immediate assistance and the best attention for our tenants in one click.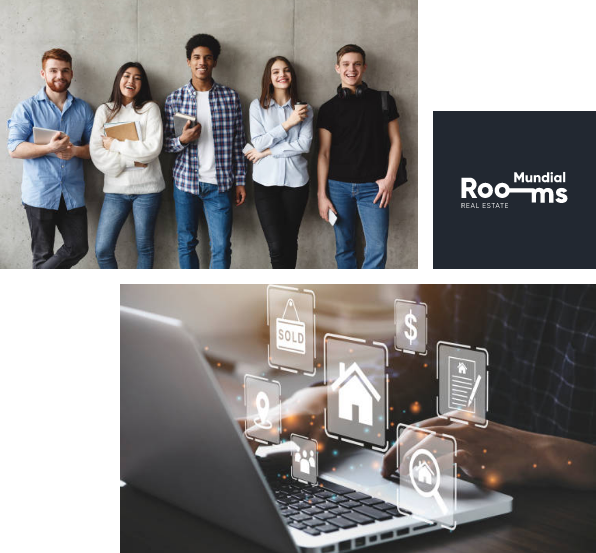 How we work
Our goal is to provide you with a safe, efficient, fast and, above all, easy way to find housing in Madrid. Use our reservation service to find the right place for you. We have more than 1,000 different types of accommodation in Madrid: apartments or studios, complete homes or rooms in shared flats.
Online booking is the fastest way to rent an accommodation. All our properties are verified and the photographs and videos are 100% reliable. If you need it, our commercial department can advise you and accompany you throughout the process. Book comfortably from wherever you are. If you prefer to visit the accommodations before booking, make an appointment with our commercial department. We will be happy to help you.
Once your ideal accommodation has been selected and reserved, we advise you on the lease contract before it is signed, we organize the signing of the lease contract and handing over the keys with the owner and we certify, through the preparation of descriptive and photographic inventories, the state in which The property is delivered to guarantee that at the end of the contract you cannot be charged expenses that do not correspond to you.
Online Bookings
Booking online is the fastest way to rent an accommodation. Our MundialRooms team will validate your reservation within 24 working hours and 72 hours on weekends and holidays. In case of not meeting the tenant profile requirements, the reservation will be canceled, so before making a reservation, enter your details filling in the form on our website, checking that you meet the requirements of our customer profile and the type of accommodation chosen.
You must also keep in mind that, in case of renting studios or complete houses, the utilities expenses are not included in the monthly rental price shown on our website.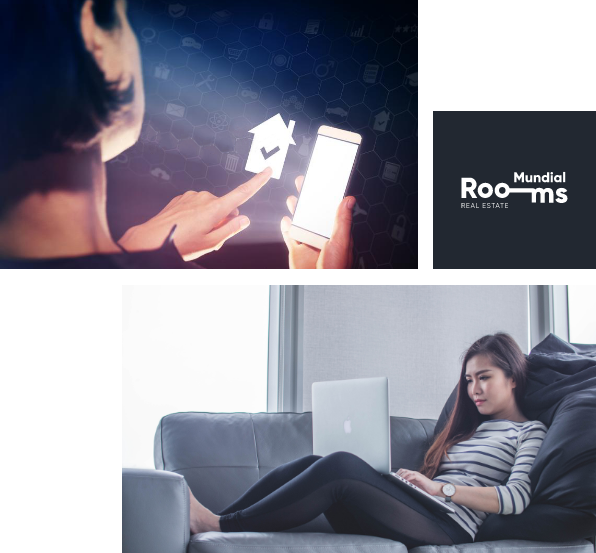 MundialRooms properties are exclusively for the accommodation of students and young professionals, with ages between 18 and 37 years old. In the case of students, in order to book any type of accommodation they must provide their NIF, NIE, Passport or ID, enrollment in a study center and solidary guarantee (father, mother, guardian,...). In the case of young professionals, they must provide their NIF, NIE, Passport or ID number, a permanent employment contract and the last three payrolls, as well as their income tax statement. In some cases, a guarantor may also be required. More information in our general booking conditions: :3.1. Use of the accommodation booking service.